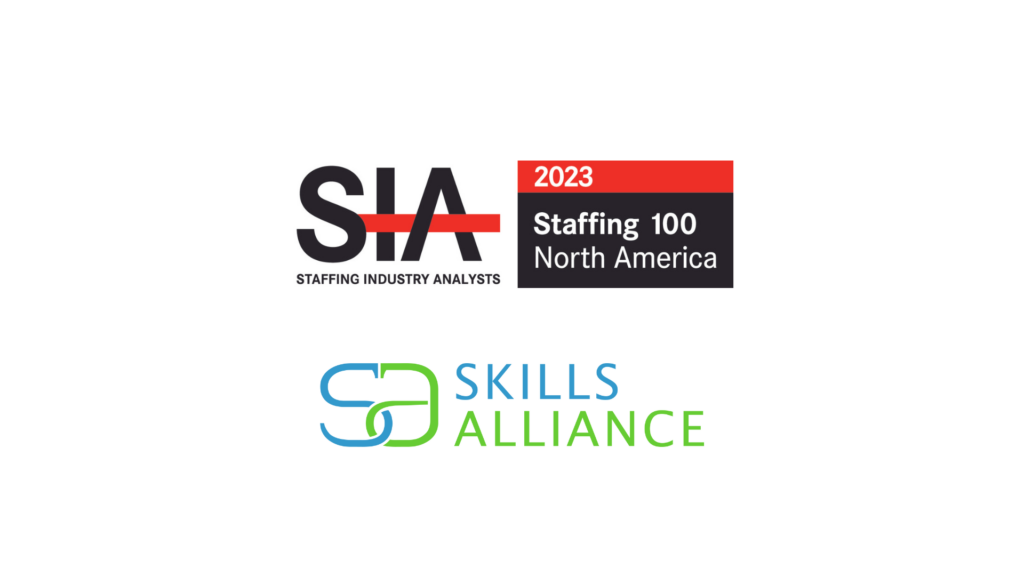 2023 SIA 100 North America Leaders
Dan Shillingburg, President, North America; Managing Director, Skills Alliance Consulting has been recognised within the 2023 Staffing Industry Analysts (SIA), Staffing 100 North American leaders. Now in its 12th year, the annual list honours 100 notable individuals who are elevating the industry and advancing the workforce solutions ecosystem through their accomplishments.
Dan has been recognised for a number of initiatives including championing I&D programmes, where he focuses on reducing biased hiring for clients to meet their DEI goals. This is ultimately critical for innovation in R&D settings across all healthcare and life sciences organisations. Furthermore, he drives actionable DEI progress by aligning market reporting to DEI goals. This empowers clients to develop appropriate talent acquisition and development strategies for each of their job functions, across all seniority levels based on accurate custom data. 
He was also noted for taking a quantifiable, values-driven approach to hiring, which has paid off in placement retention and promotion performance: data shows that Skills Alliance placements last over twice as long as other hires within this industry. Additionally, Dan participates in advisory boards aimed to align the education system with biotech industry needs in California.
Dan Shillingburg commented, "I am delighted to be recognised as one of the 2023 Staffing 100 North America executives that has led their companies through strong 14% growth in 2022 to $212.8 billion in revenue for the staffing industry as noted by the SIA. This status also illustrates the hard work and dedication by the teams at Skills Alliance to providing our clients with the best talent acquisition outcomes."
"Despite a devastating pandemic, war overseas, global inflation and a constantly evolving world of work, the staffing industry not only recovered but grew substantially past pre-pandemic levels. Seeing how the industry achieved such success merely requires a look at the Staffing 100 North America, who faced and leapt high over those obstacles," said Barry Asin, SIA president. "As we look ahead to an uncertain period, we salute those who guided the industry through an often turbulent 2022. Congratulations 2023 honorees!"
SIA is the global advisor on staffing and workforce solutions They produce independent and objective analysis that provides insights into the services and suppliers operating in the workforce solutions ecosystem, including staffing firms, managed service providers and recruitment process outsourcers.